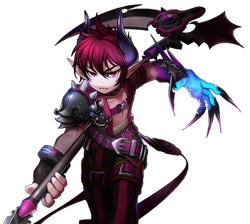 1st Job: Stygian - Skill Tree


2nd Job: Drakar - Skill Tree

3rd Job: Unkown - Skill Tree (Unreleased)

4th Job: Unknown - Skill Tree (Unreleased)
Dio's starting level is 30 and even though he appears to fight without a weapon, he summons numerous tools that physically manifests his powers during battle, making him lethal in close and mid-range combat.
Unlike the other Grand Chase characters, you can create shortcuts for Dio's basic skills and specials. This allows you to create a variety of combos. It also makes Dio easy to use for new players.
"Away with you! Useless creature." (Beginning)
"You were the one annoying me all along." (Taunt)
"Here's the finish!" (Skill)
"How dare you..." (Counter)
"I don't have time to play with you." (End)
The Stygian gains multitude of powers VIA the Skill Tree. Mixing up the powers, the Stygian can become a dangerous weapon.

See Stygian Skill Tree for more information.
Dio's Vengeful Sword is based off of the Elsword character Elsword's Wind Blade, Rising Slash, and Luna Blade.
It is strongly believed that the Stygian is modified after the Viken, as they both use Scythes and wield them similarly.
Like Mari and the Vanquisher, the Stygian can use a wide variety of weapons: a Scythe, a Lance, a Sword, and a Claw.
The word Stygian is an adjective to the word Styx, which means "hate" and "detestation". It is also a river in Greek Mythology, between the Earth and the Underworld.