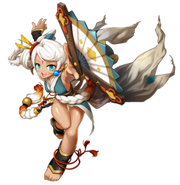 1st Job: Mystic - Skill Tree
2nd Job: Equinox - Skill Tree
3rd Job: Theion  - Skill Tree
4th Job: Avatar - Skill Tree
Mystic 
(
Priestess
 in BGC and KG, 
Mystic
 also in GCI and Phoenix in NAGC) is a magician whose power relies in her fan and the power of the wind. She uses mid-ranged attacks and keep her enemies knocked down with her wind abilities but unlike existing magic type characters, she is able to run and do dash movements, which allows her to move fast. Also, the glyph system is applied to all command techniques and critical techniques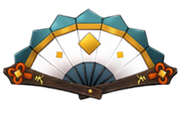 which makes connection to various combos easy. Along with this system, she is able to overcome the opponent easily when adding more damage onto them.      
Unlocking
Edit
As a first class, Phoenix does not need to be unlocked; Rin starts as this class.   
Phoenix's 1st grade attack's name (Flash of Light) was reused for Fighter's 4th grade attack.