_NOTOC__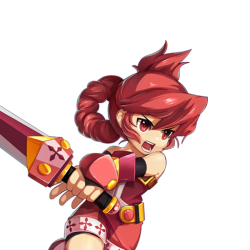 Description
Edit
Elesis is feared by her enemies for her powerful attack skills that instantly wipe out entire groups of monsters. She leads her team at the front line of battle, advancing against enemies while defending her allies against enemy Archers and Mages. When she charges her enemies, they go down without having a chance to retaliate. Elesis has 80% more defense points against Archer's arrows, and suffers the least amount of delay among the Grand Chase members when inflicted with powerful damage from enemies.

==Quotes==
"Are you ready?" (Beginning)
"Are you feeling scared yet?" (Taunt)
"I'll show you the true meaning of fear!" (Counter)
"You're no match for me!" (End)
==Trivia==Edit
Some attacks made by the Elsword character Elsword has identical names compared to Elesis's.
Elsword's "Mega Slash" is just one powerful swing dealing high damage.
Elsword's "Sword Fire" enchants his own blade with flames and strikes the ground, erupting flames. After the attack, the sword will continue to burn temporarily, giving him the opportunity to attack with flame damage.
Elsword's "Storm Blade" summons a large, magical sword-like spike around him which rotates constantly, piercing the opponent.
Elsword's "Windmill" does a constant, horizontal swing for five seconds while moving around. His variation can also be done in mid-air and has Super Armor.
Elsword's Air Slash was based off of Elesis's Circle Blade, although the second hit of Air Slash is 180 degrees upward.