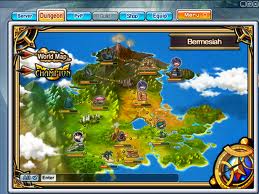 Bermesiah is the first continent players start out on, the other five being Ellia, Xenia, Silver Land, Alcubra, and Archimedia. It contains the game's first twelve dungeons. It also consists of the two kingdoms, Serdin & Kanavan. The two were involved in a war against each other.
The continent appears to be much larger, as it has ties with a much bigger continent that is labeled "Bermesiah."
Unlocking
Edit
As the first continent, Bermesiah does not need to be unlocked.
The following dungeons are on the continent of Bermesiah, in order of appearance:

Level:0-2





Level:2-4






Level:4-6
Champion:7-9 ▐ Crest: Serdin Guards

Level:6-8
Champion:9-11 ▐ Crest: Harpy Hunter

Level:8-10
Champion:11-13▐ Crest: Orc Expedition

Level:10-12
Champion:13-15▐ Crest: Drake Master

Level:12-14
Champion:15-17▐ Crest: Elf Guardian

Level:14-16
Champion:17-19▐ Crest: Knight's Oath

Level:16-18
Champion:19-21▐ Crest: Swamp Ranger

Level:18-20
Champion:21-23▐ Crest: King of Death

Level:20-22
Champion:23-25▐ Crest: Pioneer of Enlightenment

Level:22-24
Champion:25-27▐ Crest: Knighthood